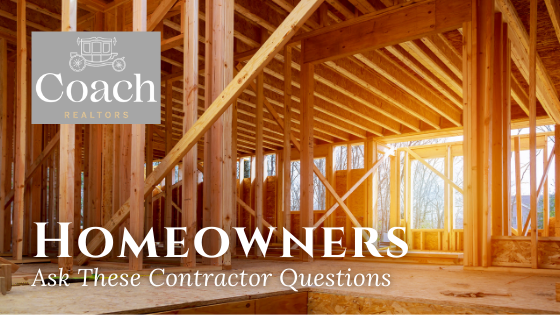 You've probably heard this before, but a contractor can make or break your remodeling or home addition project. Finding the right contractor will determine the timeliness and quality of work, and the amount of financial and emotional stress you'll have to deal with. Before paying thousands of dollars for the job, you'll want to carefully screen potential contractors and make sure they know what they're doing. Our REALTORS® have collated a list of questions to ask before you hire a contractor.
How Long Have You Been Working in This Town?
When hiring a contractor, you want to know how much experience they have and how long they've been working in your local area. A contractor who has been around the block for a few years is more likely to have a proven track record. They're a safer bet than a contractor planning to commute to your home from 50 miles away.


Are You a Licensed Contractor?
Licensing is an important element in the construction industry. A licensed contractor will have extensive knowledge about local building laws, follow proper safety guidelines, and complete your work on time. If you hire an unlicensed contractor, they may disappear after doing half the work, and you'll be on your own when it comes to resolving the issue. And it's not just important to have a license; you want to make sure it's applicable to the types of project you're looking to have completed.


Are You Insured?
In response to this question, you want to hear that the contractor has general liability insurance and workers' compensation insurance. The last thing you need is to pay for repairs when a worker hits a water line and floods your house or pay for the medical expenses of a worker who got injured while working on your property. Ask to see a copy of the contractor's insurance policy to ascertain that they have insurance, and it's enough to cover your home if things go sour.


How Long Will the Remodeling Take?
An experienced contractor should give you a projected timeline for the completion of the project. But it's also worth noting that construction isn't always cut and dry. Behind existing walls or floors might be hidden damage or problems that call for additional work. Ask your contractor about the possibility of delays and how necessary changes to the timeline will be addressed.


Would You Itemize Your Bid?
There are so many things to keep track of during a remodel. Some contractors will give you a bottom-line quote for your project, but this will leave you in the dark about payment breakdown for each aspect of the job. You'll stay saner and more secure if you're given an itemized bid that shows the cost for all elements of the job. Also, make sure you discuss the payment terms before the work begins. Do not pay a large sum of money upfront.


Got References?
Speaking to past clients and gathering their input is one of the best ways to find out about a contractor's work. Call and ask questions about the contractor's quality of work, adherence to budget and timeline, ease of communication, willingness to fix projects after the project is completed, and how they keep the work area clean.


Who Will be Doing the Work?
Ideally, the contractor should handle the entire project with just their own crew. You'll want to know if the same team will be working on your home each day and whether the contractor works with subcontractors. Find out if they've had their background checked and covered by the contractor's workers' comp and liability insurance. Don't forget to ask about site-management and the point of contact between you and the company.
This is not an all-encompassing list, but it will help you get the conversation started. Remodeling your home or building an addition can make your home a more enjoyable place to live. And if you decide to add your home to the pool of Nassau County homes for sale or Suffolk homes for sale, the right improvements can really separate your home in the market. Contact us today to learn more.