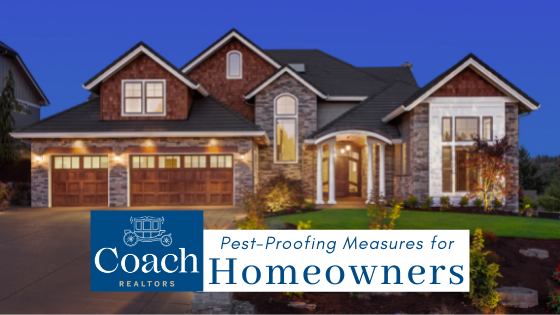 Your home is your castle. When it's invaded by an uninvited pest that won't leave, our REALTORS® understand how frustrating that can be and how much of a disruption it can cause. Many pests are difficult to dislodge, and since changing the locks isn't an option, we strongly recommend taking preventative measures that will work.
Whether you buy Nassau County homes for sale or Suffolk County homes for sale, one of the first things you want to consider is pest control. The more effort you put into keeping pests out, the less effort you'll need to spend kicking them out down the road.
Start by sealing any holes or cracks in the siding or masonry. Pay close attention to door jams and window frames where small cracks can form as the foundation settles. If you discover any cracks, apply the appropriate caulk, weatherstripping, or sealant to the surface. This will have the added advantage of improving the energy envelope around your home.


It's also advisable to clean up your attic, garage, and crawlspace. These three areas are breeding grounds for ants, mosquitos, flies, mice, and other pests. The cleaner these three spaces, the less attractive they are for uninvited houseguests with wings or fur.


Make sure to clean up the kitchen and pantry. It's best to secure food in airtight containers to help minimize the odors that can attract pests. You'll also want to make sure to keep these areas free of crumbs and other food debris that pests can munch on as they scout new places to move into.


Skip the pet door and making sure Fido is regularly groomed. Pet doors create easy access for mice, roaches, raccoons, and other pests; removing the door denies them a potential point of entry. And, while you're removing the pet door, be sure to securely install the bug screen on the windows and patio doors. This will help keep bugs of all shapes and sizes from moving in. 


Stay on top of your landscaping. Keep trees properly trimmed, mow the grass, and ensure that piles of leaves and other yard waste don't grow into small mountains. Left unattended, these piles will rot and attract all manner of pests that can easily multiply and move in when you're not looking.


Speed up the process. Once you remove the breeding grounds and food sources, it can take a while for pests to disappear. Place traps and poison for them to nibble on, but be sure to put these traps and substances in locations where pets and children can't access them.


Hire an exterminator. If you've tried all these pest-proofing measures, and the rats, mice, flies, and other pests still haven't taken the hint, hire the professionals to deliver a permanent eviction notice. Exterminators are highly effective at eliminating pests. But remember: If you don't solve the infestation's root cause(s), you can expect the pests to return in the future.
Are you looking for a new home? We can help. Contact us, and we'll do our best to give you the information you need.